The Surface Saver products set the highest standards for performance in the snow removal industry, offering exceptional service life in the harshest conditions.
Designed to combat unnecessary downtime and maintenance, The Surface Savers specially-formulated polyurethane is site-tested to withstand temperatures to -30º below zero and is proven to outlast steel, rubber and plastic alternatives, as well as other polyurethane products in the industry.
The Surface Saver blades have a five times higher abrasion resistance than rubber blades. Using The Surface Saver Blades made from a special formulated compound will reduce labor cost and downtime. Our new compound gives you urethane quality blades at rubber / neoprene pricing.
Urethane Cutting Edges
Urethane can expand your customer base. Many plowing contracts may specify that steel cutting edges cannot be used. If you limit yourself to only using steel edges you could lose out on potential business. The use of steel edges has the potential to wear down the sealant on driveways and damage landscaping. Because of this, property managers or individuals may require the use of a urethane cutting edge. Adding the urethane edge to your plow lineup can expand your customer base.
Urethane is quiet. Apartment complexes, hospitals and those on your early morning routes will appreciate the urethane cutting edge as it offers a quieter alternative to its steel counterpart. A urethane edge also decreases vibration in the cab as the contact intensity with the ground surface is minimized.
Urethane glides over frozen gravel. If you desire to keep a base layer of snow on a gravel surface, urethane cutting edges will slide over frozen gravel leaving a thin coating of snow on the surface.
Urethane performs best with fresh snow or slush. The nature of the urethane material allows it to mold to the ground surface. Because of this, it creates a squeegee effect and performance is maximized when plowing fresh snow or slushy conditions.
Urethane reduces obstacle impact. Urethane's material composition is a type of durable, heavy duty, flexible plastic. In the event you hit a hidden obstacle the urethane acts like an extra cushion with the normal blade trip. That means less impact on you and your equipment.
Advantages To Using Polyurethane Blades:
Reduce down time due to replacement
Reduces road, surface and equipment damage
Ideal for airport runways, parking lots, walkways,

roads and bridges
Blades can be custom slotted or drilled
Reduces removal of road markings
No damage to residential driveways
Reduced scraping noise
Standard sizes in stock for immediate delivery.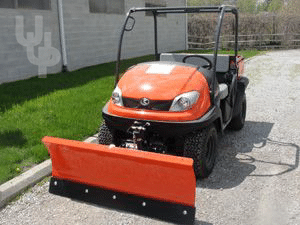 Urethane ATV Snow Plow Blades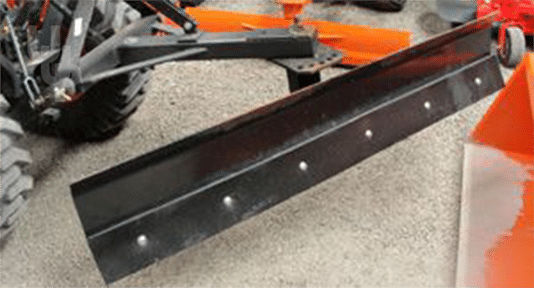 Polyurethane Tractor Snow Plow Blades