The Leading Polyurethane Snow Plow Cutting Edges. Superior to Rubber in Durability & Price!
Replace existing rubber, carbide, UHMW or metal blades with our poly cutting edge.

Why Polyurethane Snow Plow Cutting Edge?
Outlasts Rubber and UHMW by up to five times.

Will not damage roadway markings, reflectors or cobblestone.

Blades can be custom made to your specification
–NO LIMITATIONS

Deal directly with the manufacturer.

Reversible design provides two usable wear edges doubling the life.
6. Urethane quality blade at rubber pricing!
Our Snow Plow Cutting Edges Are Safe On All Surfaces:
Brick Surfaces
Concrete Surfaces
Asphalt Surfaces
Manholes
Lights
Curbs
Speed Bumps
Painted Areas on Pavement
Fits All Snow Plow Blade Makes & Models:
We can customize any blank blade to any plow. Provide us with your bolt pattern and size. Or, we can send you a blank and you can easily drill your own holes/slots.
Fisher
Western
Meyer
& More
Urethane Truck Snow Plow Cutting Edges For Sale
The Snow Plow Cutting Edges set the highest standards for performance in the snow removal industry, offering exceptional service in the harshest conditions.
Designed to combat unnecessary downtime and maintenance, these cutting edges feature specially-formulated polyurethane that has been site-tested to withstand temperatures to -30º below zero and is proven to outlast steel, rubber and plastic alternatives, as well as other polyurethane products in the industry.
The snow plow cutting edges have an abrasion resistance five times higher than rubber blades. The cutting edges are made from a specially formulated compound which will reduce labor cost and downtime. Our new compound gives you urethane quality cutting edge at rubber/neoprene pricing.
We can customize our snow plow blades to any size you may need, but our standard cutting edge sizes are ½", 1", 1 ½", or 2".
Standard Conversion Sizes Are:
1/2″ Blade – ATV, Light Duty Plows
1″ Blade – Light Duty Pick-up or Tractor (Personal Driveways)
1 1/2″ Blade – Heavy Duty Truck (Plow Parking Lots and Streets)
2″ Blade – Super Heavy Duty Truck with Shoe (Airport / Highway)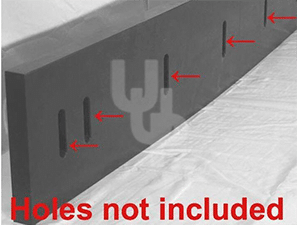 Advantages to Using Polyurethane Cutting Edge:
Reduce down time due to replacement
Reduces road, surface and equipment damage
Ideal for airport runways, parking lots, walkways, roads and bridges
Blades can be custom slotted or drilled
Reduces removal of road markings
No damage to residential driveways
Reduced scraping noise